A Sympathy Plus™ Card is a sympathy card plus an gift of support for someone you care about. Your card includes an invitation (3" x 5" insert) to experience comforting music, educational videos and other resources people can use along their grief journey.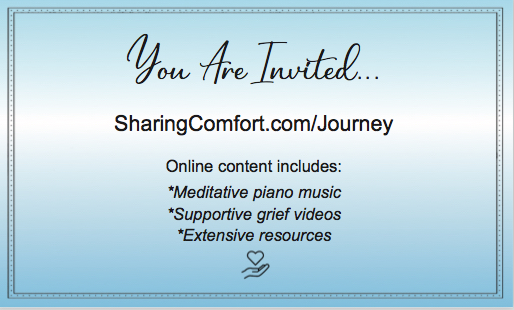 Sharing Comfort features the piano artistry of Henry Wiens.  Henry's talent was very evident by age 13 when he began accompanying congregational singing in his pastor-father's church in Upper Michigan. For more about Henry's gift and focus on comforting music, view The Quiet Heart Story.
His gentle healing music is widely known and loved via iTunes, Apple Music, Amazon Music, YouTube Music and Spotify.  Sample Music ♫ from the menu above as desired.
Sympathy Plus cards are $3.95.  Elegant card designs are based on original, panoramic nature photos that evoke peace, tranquility and grandeur.
Discounts of 10%, 20%, 30% and 40% are automatically applied at checkout for minimum quantities of 12, 25, 50 & 100, respectively. For 200+ cards, please contact Sharing Comfort for a quote.
Description: 5" x 7" horizontal, 100# premium matte card stock, off-white envelopes included.
Invitations are 3" x 5" glossy, 100# paper.
Free Shipping (USA) on orders of $25 or more. Most orders are sent on the same or next business day.
To order, download and return this Order Form. You will receive an E-Discount coupon for 40% off on Sympathy Plus cards and/or Personalized CDs. 
Personalized CDs are $7.95 or 40% off w/discount for custom URL.