Click on Invitations
to View Online Content
Secular option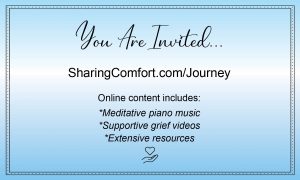 Religious option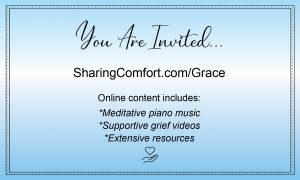 About Pianist Henry Wiens
Sharing Comfort features the piano artistry of Henry Wiens.  Henry's talent was very evident by age 13 when he began playing for services in his pastor-father's church in Upper Michigan.  For more about Henry's gift and his focus on comforting music, view The Quiet Heart Story.
His gentle healing music is widely known and loved via iTunes, Apple Music, Amazon Music, YouTube Music and Spotify.  Sample Music ♫ from the menu above as desired.
About the Videos
Sharing Comfort features educational, compassionate videos written and produced by Joy Berger, DMA, FT, BCC, MT-BC, founder of Composing Life Out of Loss. Those who have lost loved ones will find support and guidance to help them along their grief journey,
About Recipients
Most people will appreciate these thoughtful, resource-rich cards. Currently 96% of Americans ages 50-64 and 75% of those over 65 use the internet. (Pew Research Center, Jan. 2022) And for those elderly recipients who likely do not, consider adding a comforting CD (see menu) or simply omit the invitation.
Order Details
Sympathy Plus Cards are $4.95, including invitations.  Elegant card designs are based on original, panoramic nature photos that evoke peace, tranquility and grandeur.  Cards: 5" x 7" horizontal, 100# premium matte card stock, off-white envelopes. Clear, resealable wrappers are included for enhanced presentation.
Invitations: 3" x 5" glossy, 100# paper. Please select Religious or Secular or Custom from the dropdown menu you will see after selecting a card.
Custom Invitations with Personalized URL: $15/month, 1 yr min. (one location - 66% discount on 2nd, 3rd location, etc.)
To order, download and return this Order Form. You will receive an E-Discount coupon for 40% off on Sympathy Plus cards and/or Personalized CDs. 
Personalized CDs are $7.95 or 40% off w/discount for custom URL. (Other discount coupons may also apply)
Covers are personalized with A Gift of Remembrance / from / 'Your Name Here'.  These are intended especially for elderly recipients who don't go online.
Free Shipping (USA). Most orders are sent within 2-3 business days.